News -

- News

Avril 2021 / April 2021
Cristal Benito : nouvelles appliques pour
la Maison Van Cleef & Arpels

Cristal Benito : new wall lights for
Van Cleef & Arpels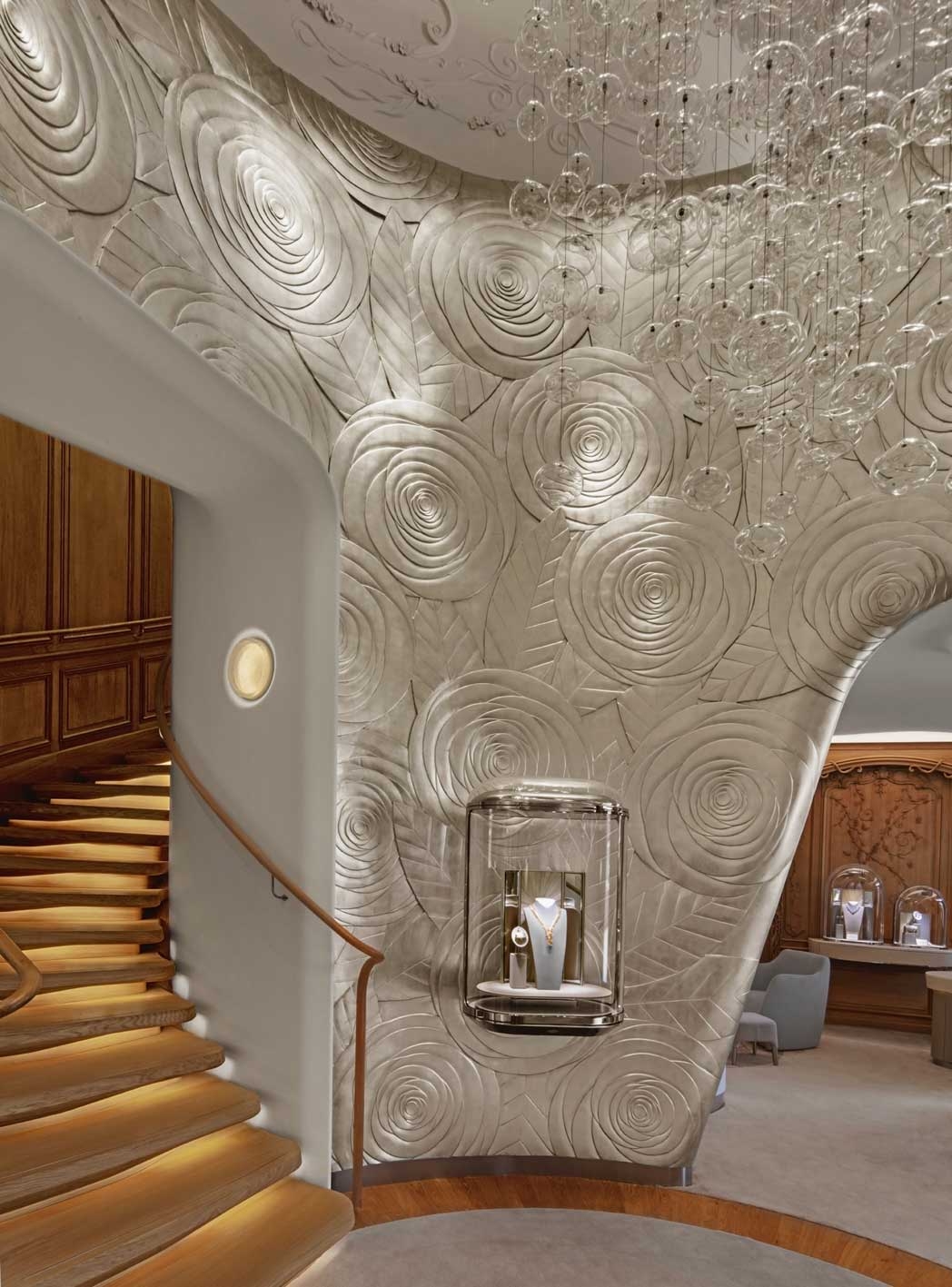 Design : Agence Jouin Manku pour la Maison Van Cleef & Arpels.
Crédits photos (haut et bas) : Eric Laignel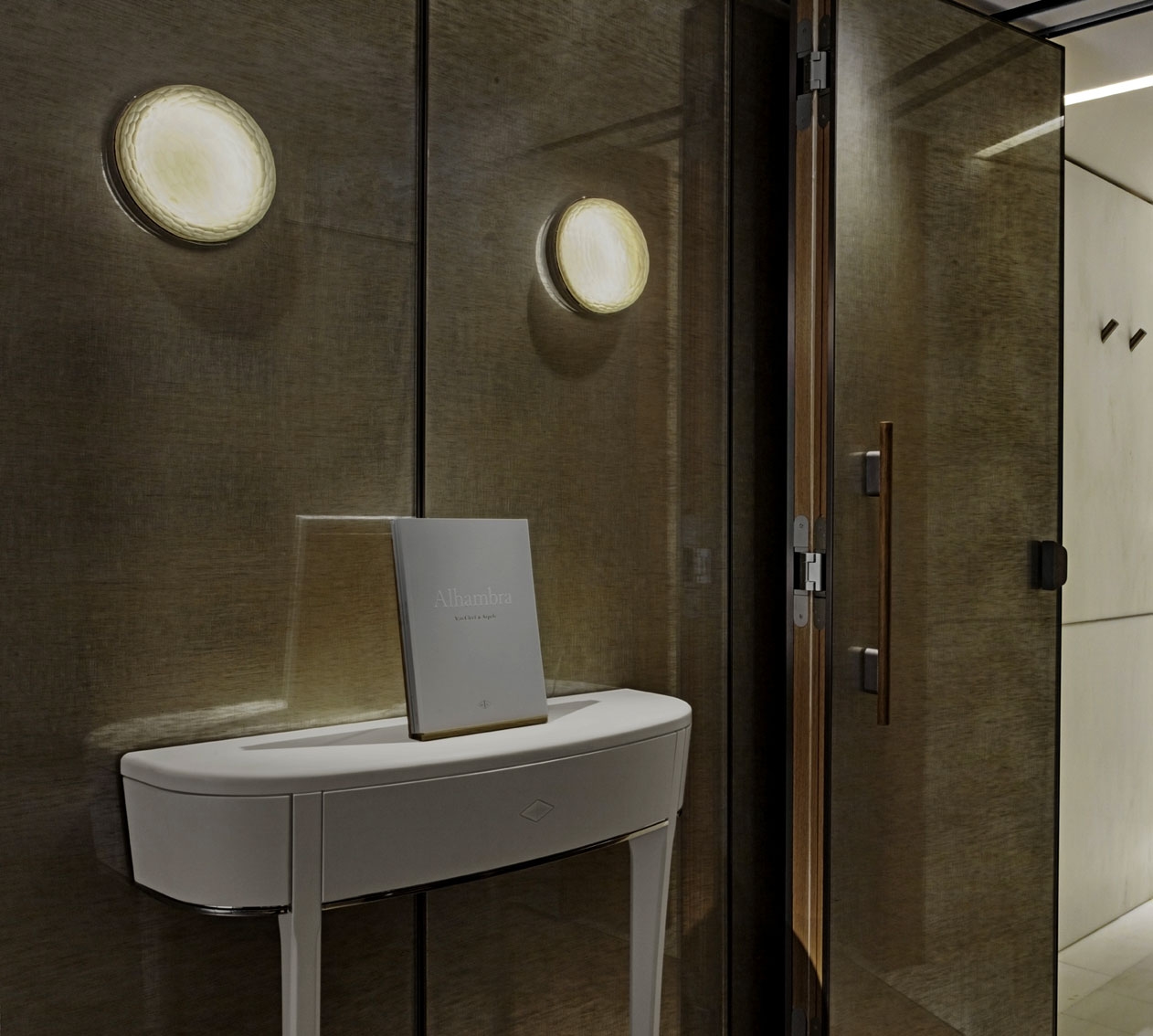 Cristal Benito crée 3 appliques en cristal taillé main (motif nid d'abeille) pour Van Cleef & Arpels – Boutique Paris Place Vendôme.
Diamètre des appliques : 18 et 25 cm
Cristal Benito creates 3 wall lights in hand-cut crystal (honeycomb pattern) for Van Cleef & Arpels - Boutique Paris Place Vendôme.
Diameter of the wall lights : 18 and 25 cm
Franck Benito remercie chaleureusement la Maison Van Cleef & Arpels et l'Agence Jouin Manku pour leur confiance.
Franck Benito warmly thanks Van Cleef & Arpels and Agence Jouin Manku for their trust .

Un partenariat d'excellence au service de la décoration intérieure de luxe avec la
Maison Prelle - Paris Place des Victoires

A partnership of excellence for luxury interior design with Maison Prelle - Paris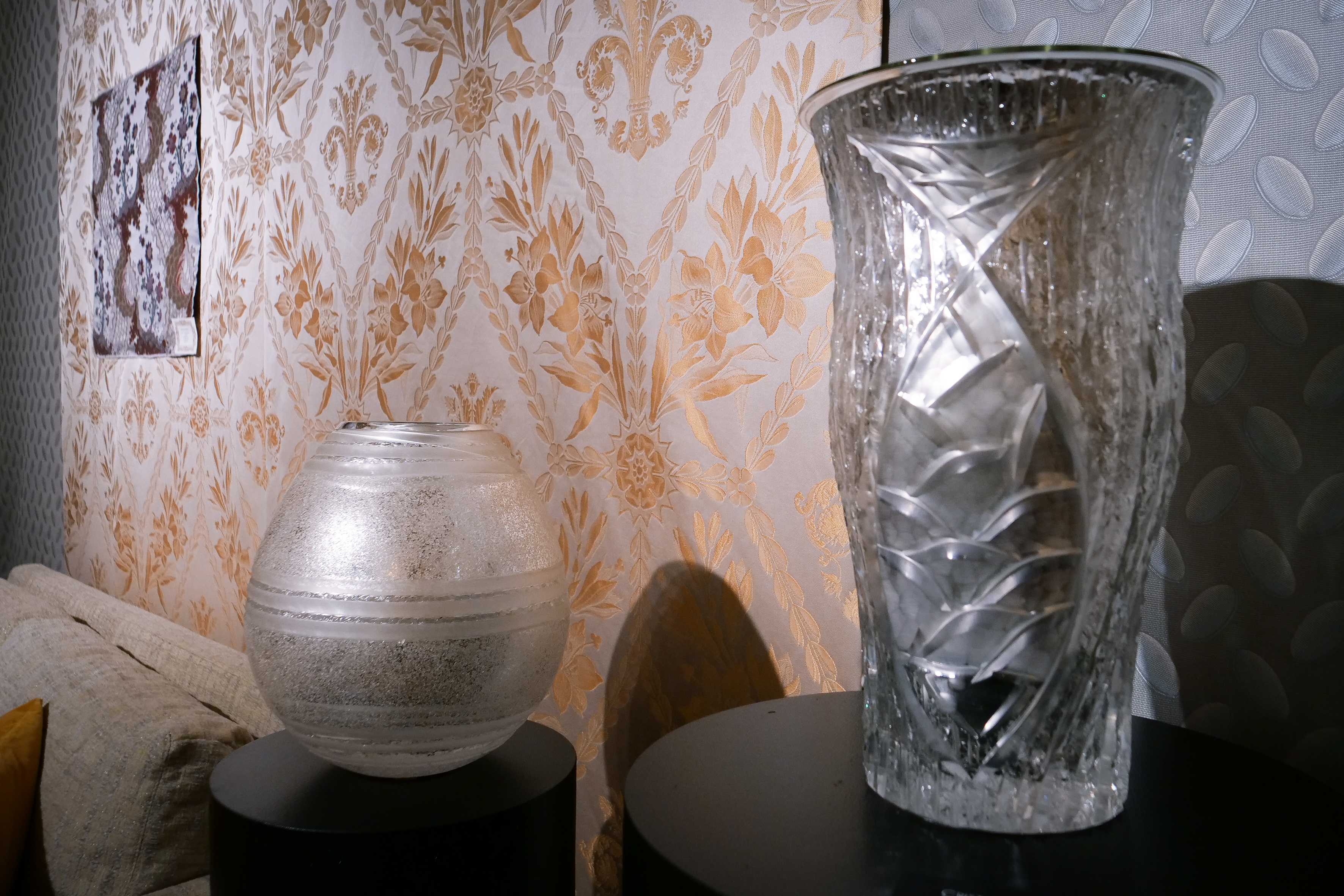 photo : Bruno Farat




photo centrale : Bruno Farat



C'est avec joie et gratitude que Cristal Benito a rejoint les partenaires de la

Maison Prelle

pour présenter au coeur de leur showroom historique de la Place des Victoires à Paris, nouveautés et collections au fil des saisons et des évènements du monde de la décoration internationale de luxe.

It is with enthusiasm and gratitude that Cristal Benito has joined the partners of Maison Prelle to present in the heart of their historic showroom Place des Victoires in Paris new products and collections according to the seasons and the events in the world of luxury interior design


A découvrir uniquement sur RV auprès de la Maison Prelle


To be discovered only by appointment at the Maison Prelle






Les Nouveautés de la Maison Cristal Benito
New products from Cristal Benito


Un cristal clair aux effets miroir pour des vases de caractère
A clear crystal with mirror effects for vases with personality
Qu'ils soient de section carrée ou tout en rondeur, ces vases résolument contemporains se jouent de toutes les conventions pour mêler tailles sophistiquées (taille en biseau, nid d'abeille), sculpture au burin, trait d'émail noir et argenture intérieure pour révéler la douceur nacrée d'un dépoli, la brillance d'un éclat, le lac d'une surface miroitante, les lignes courbes d'un ballon ou celles aiguës d'une ramure arborée...
Whether square or round, these resolutely contemporary vases play with all the rules to mix sophisticated cuts (bevel cut, honeycomb), chisel carving, black enamel and silvering to reveal the pearly softness of a frosted surface, the brilliance of a shine, the lake of a shimmering surface, the curved lines of a balloon or the sharp lines of a tree branch...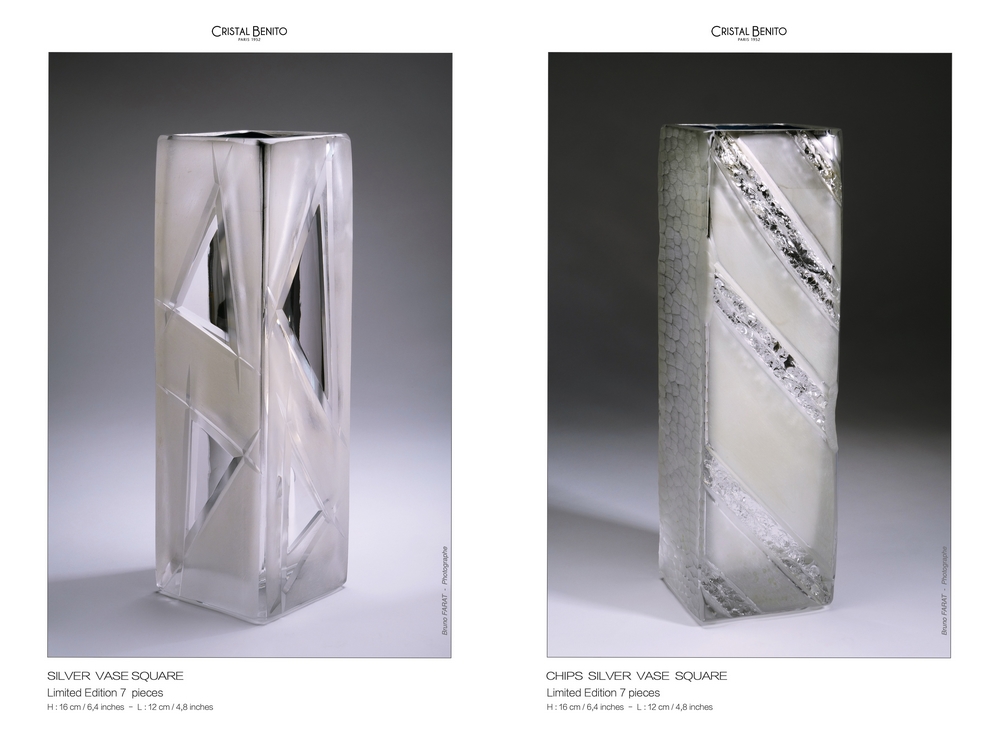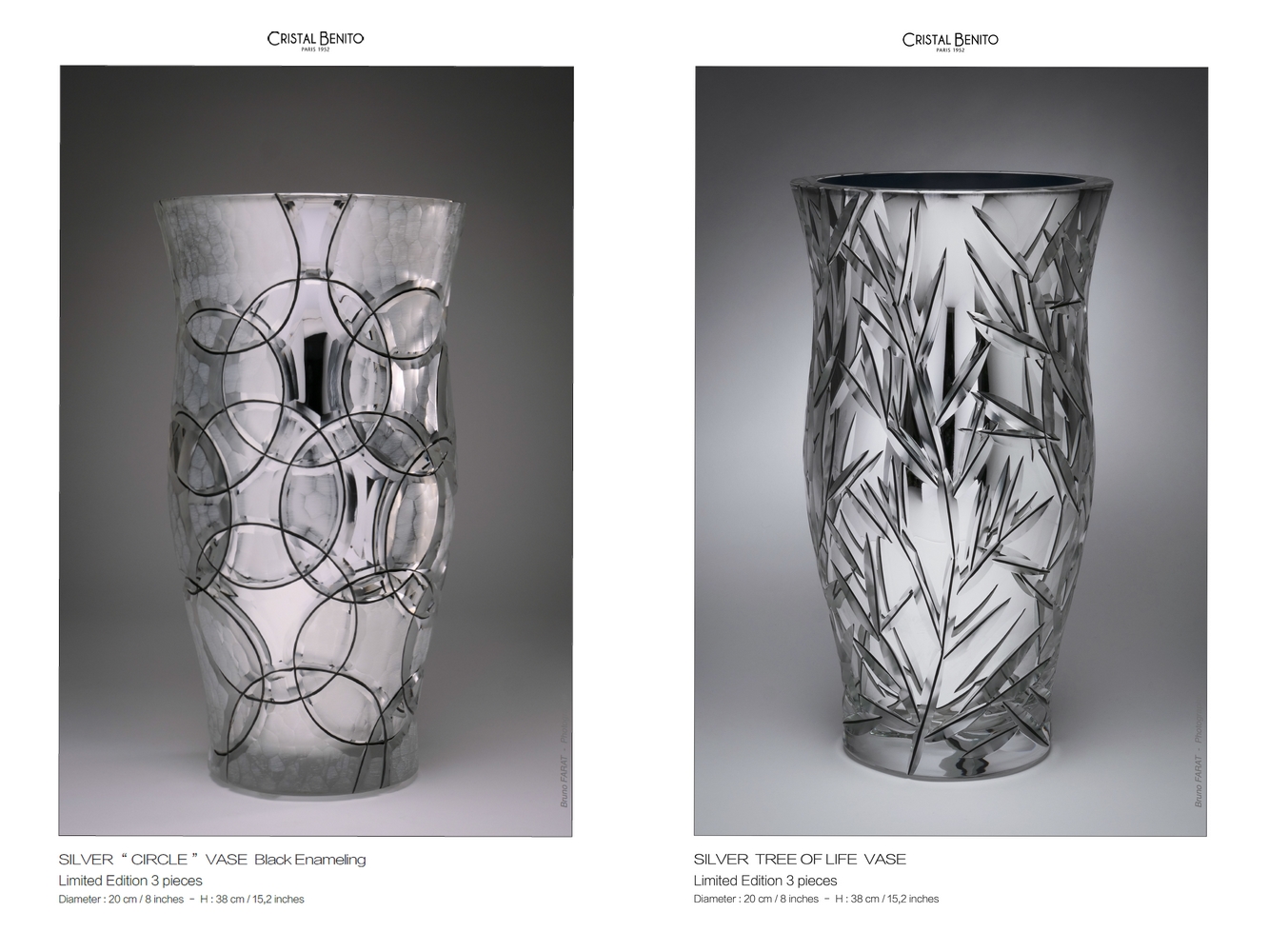 Des coupes colorées, scupltées et ornées d'onyx
Colorful, scuplt and onyx decorated bowls
Ces coupes aux couleurs douces et chatoyantes, sculptées au burin ou taillées au motif "diamant pierrerie", sont en elles-mêmes des objets luxueux de décoration. Elles peuvent seules orner tables et consoles et aussi accueillir mets rares et raffinés. Franck Benito innove encore autour de cet objet traditionnel, par la variété de ses motifs et sculptures et pour la première fois par la taille d'un socle en onyx rouge ...
These bowls with soft and shimmering colors, carved with a chisel or cut with a "diamond-stone" pattern, are in themselves luxurious decorative objects. They can be used to decorate tables and consoles and also to host rare and refined dishes. Franck Benito innovates again around this traditional object, by the variety of its patterns and sculptures and for the first time by the cut of a base in red onyx.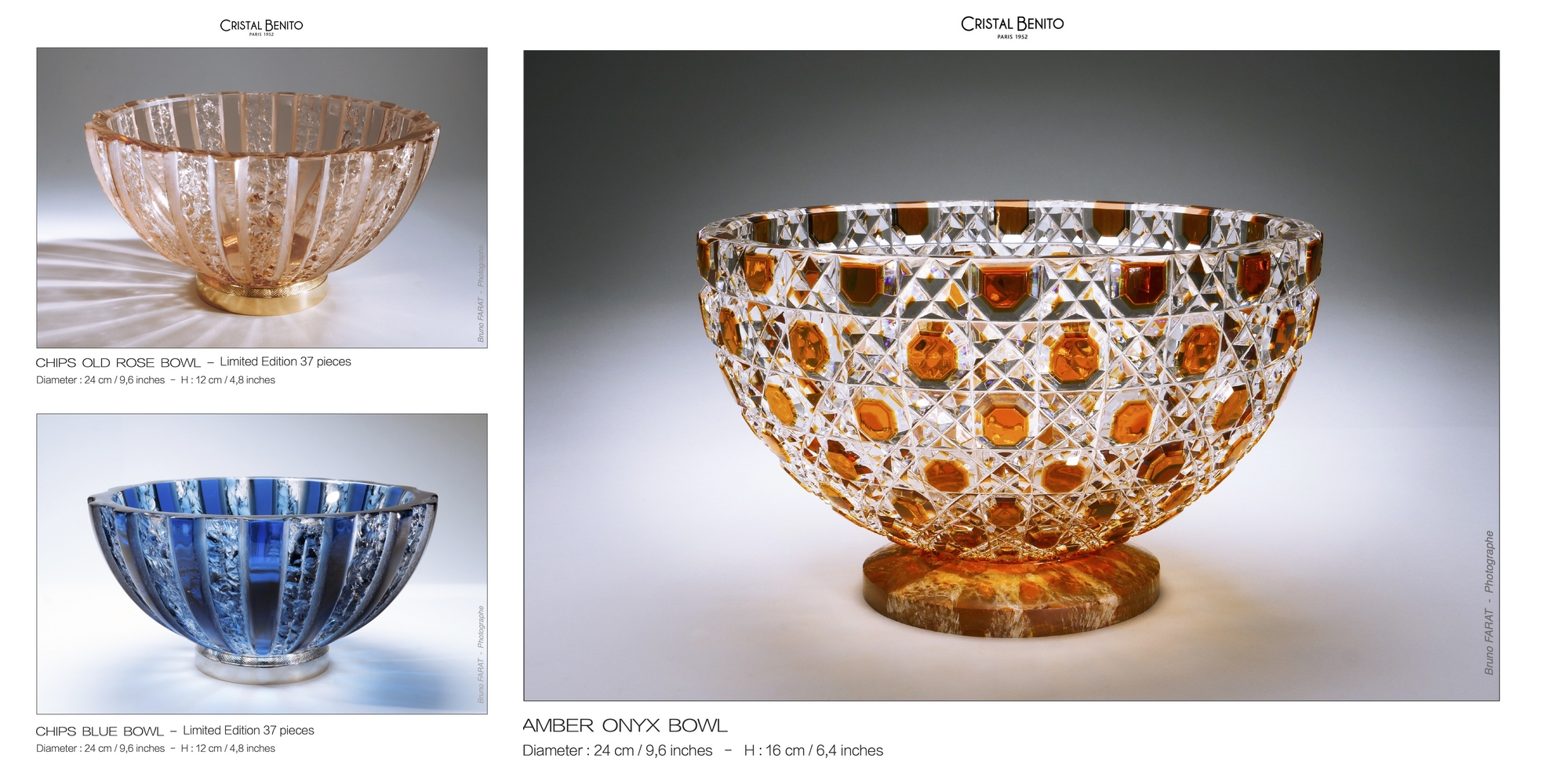 Un œuf de Pâques ? ... cadeau précieux !
An Easter egg? ... a precious gift!
Cet œuf de style Fabergé, sculpté dans cette incroyable pierre d'Agate aux veines gris bleuté, dissimule certainement le plus beau de tous les trésors ... Lequel ? Celui que vous y aurez caché !
This Fabergé style egg, carved in this amazing Agate stone with bluish-gray veins, certainly hides the most beautiful of all treasures... Which one? The one you will have hidden there !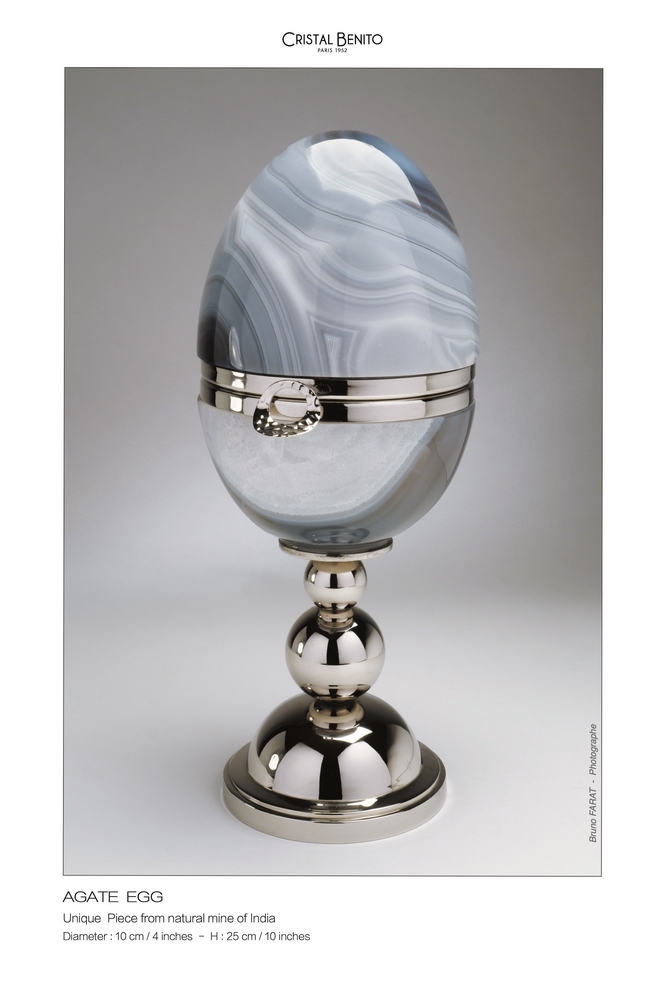 Une collection organisée en catalogues
disponibles en ligne
A collection organized in catalogs available online

Franck Benito a réuni la collection des objets créés depuis 1952 dans 5 catalogues thématiques aujourd'hui disponibles en ligne. Régulièrement mis à jour, ils sont consultables et téléchargeables en
cliquant sur les images ou les liens indiqués ci-dessous.
Franck Benito has gathered the collection of objects created since 1952 in 5 thematic catalogs now available online. Regularly updated, they can be consulted and downloaded by

clicking on the images or the links indicated below.
Now you can learn more about Cristal Benito in 6 different linguages : French, English, Arab, Japanese,Chinese, Russian

www.cristal-benito.fr
pour nous contacter / to contact us

Suivez-nous/ Follow us on :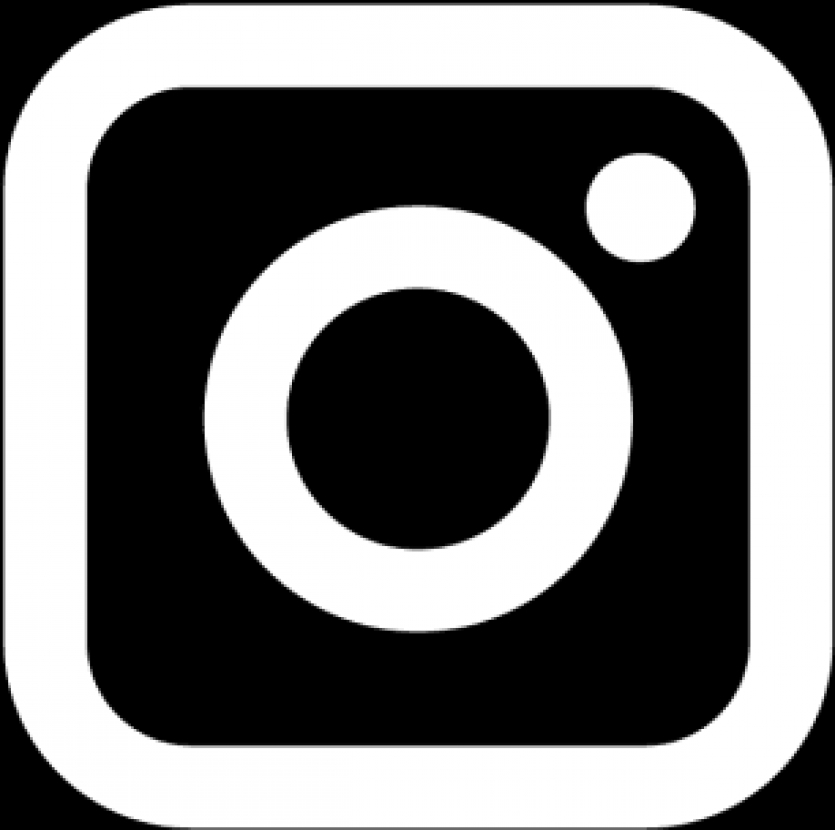 Si vous ne souhaitez plus recevoir cette newsletter de la part de Cristal Benito, merci de nous le signaler
ici
If you no longer wish to receive this newsletter from Cristal Benito, please let us know
here